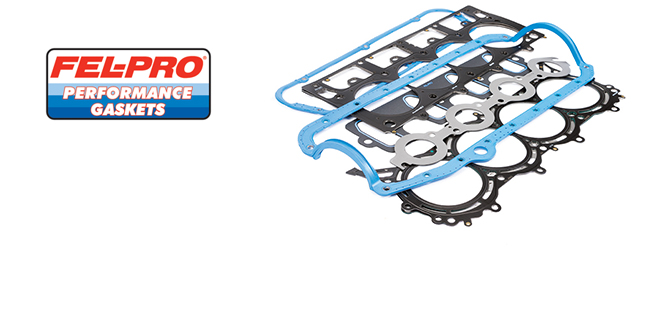 Fel-Pro® Performance Gaskets:
Proven race winners will tell you: If you race to win, you should race with Fel-Pro. Whether it's an MLS head gasket that can survive astronomical boost, a manifold gasket that will seal 20 inches of crankcase vacuum, or a valve cover gasket that will maintain a leak-free seal after miles of full throttle action… Fel-Pro Performance Gaskets has the sealing package to be durable and to perform – from the strip to the oval.
Speed-Pro®:
From pistons to valvetrain components, Speed-Pro® offers a vast array of performance engine parts. You can rely on Speed-Pro for industry-leading performance engine technologies, from cutting edge Digital Diamond Profiled™ pistons to the new generation of DUROSHIELD® coated engine bearings. These are engine components performance enthusiasts and racers can count on.
Fel-Pro®
Select Fel-Pro Vintage gasket sets include the latest, premium Fel-Pro technologies engineered specifically for vehicles with imperfect casting and flange surfaces. These include premium Fel-Pro PermaDryPlus® gaskets featuring highly advanced molded rubber chemistries, multiple sealing beads, rigid carriers and a variety of other enhancements that help ensure a long-lasting, trouble-free seal.
Sealed Power®:
Sealed Power® engine products for vintage engines take classic OE-inspired designs and enhance them to today's technology standards. No manufacturer or brand offers a broader array of OE-quality replacement engine components for the vintage market.
Fel-Pro®
Light-duty diesel truck owners expect a lot of their engines. For these demanding applications, Fel-Pro offers gaskets designed to seal engines pushed to these punishing extremes. Innovations like those found in Fel-Pro PermaTorque® MLS head gaskets ensure engine sealing reliability under the higher temperatures and increased cylinder pressures brought on by tough workloads and harsh operating environments.
Sealed Power®:
Sealed Power engine products for light duty truck diesel engines are a complete system of application-engineered internal replacement components including pistons, piston rings, engine bearings, camshafts, oil pumps, timing components and valvetrain products. These proven replacement parts stand up to high heat a tremendous pressure to keep diesel engines running strong.